How can a carcass be identified and tracked trough packing plant operations?
One method to provide informational tracking of a carcass through processing is by use of a Radio Frequency (RF) identification tag.
This is accomplished by a unique identification number which is assigned, and affixed to each trolley transporting a carcass through the processing operations.
The RF Tag provides the identification which is interpreted at specified locations and associated with relative station information such as weighment, grade, or yield, and passed to a computer database.
An excellent system to accomplish this type of activity is the Trolley Vision RF system.  It consists of passive RF Tags, an antenna, and associated reader station(s).
This system has met the problematic challenge of affixing an RF tag by use of a composite mold encapsulating and protecting the RF tag.
The tag carrier is comprised of two molded pieces which are clamped together on either side of the trolley indentation area by a screw through the wheel.
A strong feature of this system is that batteries are not required to power the transponder of the tag.  Instead, power is induced to the transponder as it passes through the antenna coil field.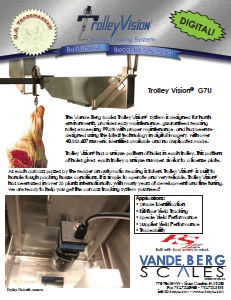 The antenna coils are housed in UHMW plastic and are mounted in very close proximity of the trolley wheel movement.  Thus, as the wheel passes the coil, the transponder is induced, and the RF tag ID is passed through the antenna to the associated reader.
The reader consists of an enclosed  microprocessor which interprets the ID and sends the transponder number to interfaced computer equipment.
An inviting aspect of this system is that installation is somewhat simplistic and may be accomplished by your personnel with proper guidance.
Share: